You are here
Back to top
U.S. Army Special Forces Guide to Unconventional Warfare: Devices and Techniques for Incendiaries (Paperback)
Covid-19 Update
We are currently OPEN for in-store shopping from 10:00 - 4:00 Wed - Saturday.
We appreciate your support while also desiring to keep your health and safety as our top priority. We are welcoming your orders through our website, or by calling the store at 802-476-3114. We also will provide curbside or local delivery once your order arrives. Thank you so much and be safe!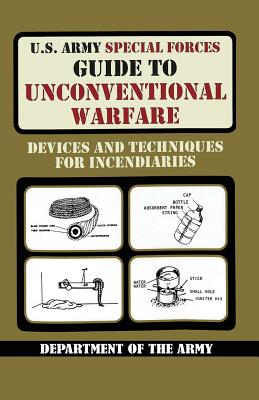 $12.99

Usually Ships in 1-5 Days
Description
---
U.S. Army Special Forces Guide to Unconventional Warfare contains incredibly detailed information and visuals provided by the U.S. Army. With this guide, you will be able to easily apply its material to understand and create initiators, igniters, and incendiary materials.
This is an anarchist cookbook of sorts by army guys. It is an improvised munitions handbook made from U.S. Army intelligence. The table of contents includes gelled gasoline, fire fudge, napalm, silver nitrate, concentrated sulfuric acid, fuse cords, spontaneous combustion, and delay mechanisms. Brimming with special forces secrets, this guide is a critical tool for any provocateur-in-training and provides insight into how American special forces are fighting our enemies overseas.
Meant for novices and experienced soldiers
Describes ways to use tannerite, aluminum powder, thermite, fuse cords, fuse igniters, and more in unconventional warfare
Special tactics book and a US army guide