You are here
Back to top
Photographer, Paratrooper, POW: A Wyoming Cowboy in Hitler's Germany (Paperback)
Update
We are currently OPEN for in-store shopping from 9:30 - 4:00 Tue - Friday. 9:30 - 2:00 Sat
We appreciate your support while also desiring to keep your health and safety as our top priority. We are welcoming your orders through our website, or by calling the store at 802-476-3114. We also will provide curbside or local delivery once your order arrives. Thank you so much!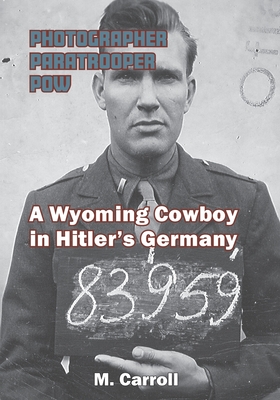 $31.99

Usually Ships in 1-5 Days
Description
---
War era correspondence and 70 year old photographs depict an age of heroism and innocence. PHOTOGRAPHER, PARATROOPER, POW: A Wyoming Cowboy in Hitler's Germany tells the story of three brothers who leave their Wyoming home to fight in World War II. This historical narrative begins with the westward expansion of a tough breed of immigrants, and ends with the rendition of Harold Carroll's many harrowing escapes from Nazi prisoner of war camps, mostly described in his own words. Within these pages family histories, military experiences, personal desires, photos, and war-time correspondence subtly communicate the angst and awe of an era. Judiciously saved by one of America's first paratroopers, a combat photographer, and a prisoner of war whose stubborn tenacity saved him repeatedly from execution at the hands of the Nazis; and meticulously compiled by the author into a rich saga that allows glimpses into our colorful & troubled past.