You are here
Back to top
100 Days in Vietnam: A Memoir of Love, War, and Survival (Paperback)
Covid-19 Update
We are currently OPEN for in-store shopping from 10:00 - 4:00 Wed - Saturday.
We appreciate your support while also desiring to keep your health and safety as our top priority. We are welcoming your orders through our website, or by calling the store at 802-476-3114. We also will provide curbside or local delivery once your order arrives. Thank you so much and be safe!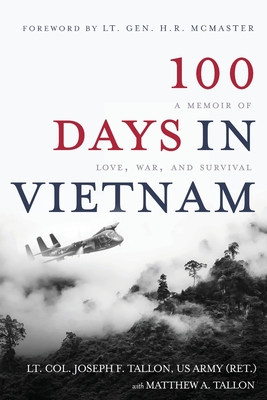 $19.95

Usually Ships in 1-5 Days
Description
---
As American troops continue their steady exodus on the last day of their ground war in Vietnam, Lieutenant Joe Tallon is shot down by an enemy missile. Forced to eject at a dangerously low altitude from their OV-1 Mohawk, Joe and his tactical observer, Specialist-5 Daniel Richards, land in the flaming wreckage. Lieutenant Tallon survives but Specialist Richards does not. Stateside, Lieutenant Tallon begins to heal and proceed with his life-but the loss of his tactical observer is never far from his mind. Forty years later, Joe embarks on a quest to bring recognition to the sacrifice of Daniel Richards and secure a Purple Heart for his family.
Painstakingly recreated from wartime letters and remembrances and contextualized by contemporary news accounts, 100 Days in Vietnam is a collaboration between Joe and his son Matt-also an Army veteran. Here we experience the war through the emotions of the man who survived it: the drudgery and monotony of airfield life, the heartache of a newlywed missing his wife, the terror of combat missions, the agony of injury and rehabilitation, and the bittersweet relief from the completion of his final mission to bring recognition to his fallen comrade.