You are here
Back to top
1942: Winston Churchill and Britain's Darkest Hour (Hardcover)
ACCEPTING CREDIT CARDS AND PAYPAL
We are currently OPEN
Monday - Friday 9:00 - 5:00
Sat 9:00 - 3:00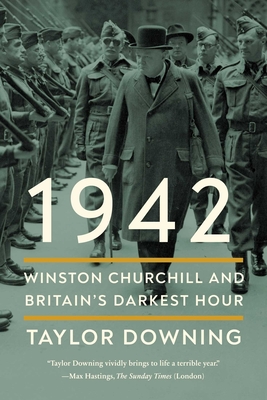 $29.95

Usually Ships in 1-5 Days
Description
---
A revelatory new work of popular history focused on the year 1942, as the fate of Britain—and Winston Churchill's leadership—hangs in the balance.

Eighty years ago, Britain stood at the brink of defeat.

In 1942, a string of military disasters engulfed Britain in rapid succession : the collapse in Malaya; the biggest surrender in British history at Singapore; the passing of three large German warships through the Straits of Dover in broad daylight; the longest ever retreat through Burma to the gates of India; serious losses to Rommel's forces in North Africa; the siege of Malta and the surrender at Tobruk.

All of this occurred against the backdrop of catastrophic sinkings in the Atlantic and the Arctic convoys. People began to claim that Churchill was not up to the job and his leadership was failing badly. Public morale reached a new low. Taylor Downing's 1942 explores the story of frustration and despair of that year, prompting Winston Churchill to demand of his army chief, "Have you not got a single general who can win battles?" Using newly discovered archival material, historian Taylor Downing shows just how unpopular Churchill became in 1942, with two votes attacking his leadership in the House of Commons and the emergence of a serious political rival.

Some argue that Britain's most precarious moment of the war was in 1940—when the nation stood up against the threat of German invasion during the Battle of Britain. But in 1942, Taylor Downing describes, in nail-biting detail, what was really Britain's darkest hour of World War II.
About the Author
---
Taylor Downing read history at Cambridge University. His most recent books published in Britain include Spies in the Sky, 1983: The World at the Brink, Churchill's War Lab, Breakdown, Cold War, and Night Raid. He lives in England.
Praise For…
---
Praise for Taylor Downing:

"Historian [Taylor] Downing documents in this revealing study of WWII-era England how 'military disasters led to political crises and the near collapse of public morale.' Downing sheds intriguing light on just how close Churchill was to losing his grip on power. The result is a persuasive reminder things are often darkest before the dawn."
— Publishers Weekly

"A vivid and fast-paced retelling of Churchill's remarkable career."
— Financial Times

"A meticulously detailed, welcome addition to the literature of World War I."
— Kirkus Reviews

"An ingenious history. Completely engrossing. For better or worse, these military developments remain with us, and Downing delivers a riveting account of how they happened."
— Publishers Weekly (starred review)

"Engaging, providing an in-depth look at a subject that doesn't get its fair share of discussion within the military history genre. Downing's voice is clear and highly readable. This volume should be of interest to most readers, especially those interested in military history."
— Library Journal

"An impressive, balanced and often deeply moving book. Anyone who wishes to understand it and its terrible consequences should buy it."
— The Times (London)

"Downing manages to offer a useful perspective by unpacking the pivotal role the cataclysm in the Somme played in the birth not just of military psychiatry, but a new era in our understanding of mental health. Downing's book is a necessary remind that trauma is an injury, and not a sign of weakness."
— New Statesman

"This vivid, compassionate account draws on harrowing first-person testimony to chronicle the sometimes humane, but more often cruel and uncaring, treatment of damaged men, both in wartime and its aftermath."
— The Daily Mail

"This is a thoughtful, intelligent book. Thoroughly researched, highly readable and highly recommended."
— Military History