You are here
Back to top
The Anarchy: The East India Company, Corporate Violence, and the Pillage of an Empire (Hardcover)
Update
We are currently OPEN for in-store shopping from 9:30 - 4:00 Tue - Friday. 9:30 - 2:00 Sat
We appreciate your support while also desiring to keep your health and safety as our top priority. We are welcoming your orders through our website, or by calling the store at 802-476-3114. We also will provide curbside or local delivery once your order arrives. Thank you so much!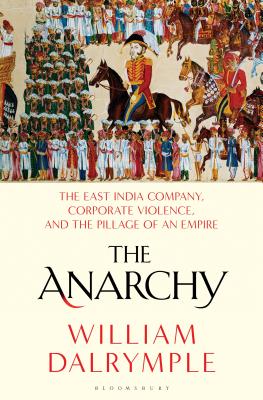 $35.00

Usually Ships in 1-5 Days
Description
---
Finalist for the Cundill History Prize

ONE OF PRESIDENT BARACK OBAMA'S FAVORITE BOOKS OF THE YEAR

NAMED A BEST BOOK OF THE YEAR BY The Wall Street Journal and NPR

"Superb … A vivid and richly detailed story … worth reading by everyone." —The New York Times Book Review

From the bestselling author of Return of a King, the story of how the East India Company took over large swaths of Asia, and the devastating results of the corporation running a country.

In August 1765, the East India Company defeated the young Mughal emperor and set up, in his place, a government run by English traders who collected taxes through means of a private army.

The creation of this new government marked the moment that the East India Company ceased to be a conventional company and became something much more unusual: an international corporation transformed into an aggressive colonial power. Over the course of the next 47 years, the company's reach grew until almost all of India south of Delhi was effectively ruled from a boardroom in the city of London.

The Anarchy tells one of history's most remarkable stories: how the Mughal Empire—which dominated world trade and manufacturing and possessed almost unlimited resources—fell apart and was replaced by a multinational corporation based thousands of miles overseas, and answerable to shareholders, most of whom had never even seen India and no idea about the country whose wealth was providing their dividends. Using previously untapped sources, Dalrymple tells the story of the East India Company as it has never been told before and provides a portrait of the devastating results from the abuse of corporate power.

Bronze Medal in the 2020 Arthur Ross Book Award
About the Author
---
William Dalrymple is the bestselling author of In Xanadu, City of Djinns, From the Holy Mountain, The Age of Kali, White Mughals, The Last Mughal and, most recently, Nine Lives. He has won the Thomas Cook Travel Book Award, the Sunday Times Young British Writer of the Year Award, the Ryszard Kapuscinski Award for Literary Reportage, the Hemingway Prize, the French Prix d'Astrolabe, the Wolfson Prize for History, the Scottish Book of the Year Award, the Duff Cooper Memorial Prize, the Asia House Award for Asian Literature, the Vodafone Crossword Award and has three times been longlisted for the Samuel Johnson Prize. In 2012 he was appointed Whitney J. Oates Visiting Fellow in Humanities at Princeton University. He lives with his wife and three children on a farm outside Delhi.
Praise For…
---
"As William Dalrymple shows in his rampaging, brilliant, passionate history, 'The Anarchy,' the East India Co. was the most advanced capitalist organization in the world . . . Mr. Dalrymple gives us every sword-slash, every scam, every groan and battle cry. He has no rival as a narrative historian of the British in India. 'The Anarchy' is not simply a gripping tale of bloodshed and deceit, of unimaginable opulence and intolerable starvation. It is shot through with an unappeasable moral passion." - The Wall Street Journal

"Superb. . . a vivid and richly detailed story . . . the greatest virtue of this disturbingly enjoyable book is perhaps less the questions it answers than the new ones it provokes about where corporations fit into the world, both then and now. . . Dalrymple's book [is] worth reading by everyone." - The New York Times Book Review

"A great story told in fabulous detail with interesting, if at times utterly rapacious or incompetent, characters populating it." - NPR

"Gripping . . . Drawing richly from sources in multiple languages, The Anarchy is gorgeously adorned with luminous images representing a range of perspectives . . . Delightful passages abound, including of the duel between Warren Hastings and Philip Francis, Shah Alam as 'the sightless ruler of a largely illusory empire,' and action-packed scenes of battle . . . Dalrymple has taken us to the limit of what page-turning history can be and do." - Los Angeles Review of Books

"An energetic pageturner that marches from the counting house on to the battlefield, exploding patriotic myths along the way. Dalrymple's spirited, detailed telling will be reason enough for many readers to devour The Anarchy. But his more novel and arguably greater achievement lies in the way he places the company's rise in the turbulent political landscape of late Mughal India." - The Guardian

"How timely [The Anarchy] feels, how surprisingly of the moment … It serves as a reminder that early capitalism was just as perverse, predatory, and single-minded in its pursuit of profit as its much-derided late-model equivalent." — The Daily Beast

"William Dalrymple, the most versatile chronicler of India past and present, distilled another complex yet highly topical history into 'The Anarchy,' a bloodcurdling account of the East India Co.'s ascent to imperial dominance, full of implications for corporate behavior today." - Maya Jasanoff

"A well- known historian both in his native Britain and his adoptive India . . . Dalrymple has influenced the scholarly as well as the popular understanding of South Asian history through his use of both European and Indian sources, thus uniting the halves of a previously bisected whole." - New York Review of Books

"Splendid . . . Dalrymple's book is an excellent example of popular history—engaging, readable, and informative." - National Review

"William Dalrymple's The Anarchy makes sense of the E.I.C. and the political and economic conditions that enabled its curious ascent. . . [Dalrymple] navigates the teeming current of events smoothly, here gliding forward, there slowing to study the view." - Airmail

"[The Anarchy] compelled my admiration . . . in William ­Dalrymple's deft hands we have an epic tale. It's very strong stuff." - Paul Kennedy

"Mr. Dalrymple sails through this story in fine style. . . . The reader will find plenty that echoes in modern India." - The Economist

"Dalrymple has been at the forefront of the new wave of popular history, consistently producing work that engages with a wider audience through writerly craft, an emphasis on characters and their agency, evocative description of place and time, and the inclusion of long-neglected perspectives. [The Anarchy]'s real achievement is to take readers to an important and neglected period of British and south Asian history, and to make their trip their not just informative but colourful." - The Observer

"The author is a marvelous storyteller. By quoting extensively from the company's own voluminous records, private letters, and diaries, Persian-language sources, eyewitness accounts penned by an insightful local historian, and other reports, Dalrymple creates a 'You Are There' environment for the reader that makes the book hard to put down." - Washington Independent Review of Books, Favorite Books of 2019

"In his latest book, The Anarchy, Dalrymple recounts the remarkable history of the East India Company from its founding in 1599 to 1803 when it commanded an army twice the size of the British Army and ruled over the Indian subcontinent. . . . It's a hell of a story." - Marginal Revolution

"[An] expert account of the rise of the first great multinational corporation." - Kirkus Reviews