You are here
Back to top
U.S. Army Special Forces Handbook (US Army Survival) (Paperback)
Update
We are currently OPEN for in-store shopping from 9:30 - 4:00 Tue - Friday. 9:30 - 2:00 Sat
We appreciate your support while also desiring to keep your health and safety as our top priority. We are welcoming your orders through our website, or by calling the store at 802-476-3114. We also will provide curbside or local delivery once your order arrives. Thank you so much!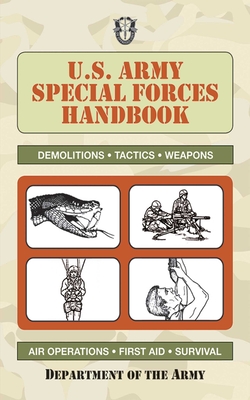 $12.95

Usually Ships in 1-5 Days
Description
---
This handbook reveals the techniques and tactics that make the U.S. Army Special Forces some of the most elite and highly skilled soldiers in the world. Trained to succeed in specialized operations such as reconnaissance, unconventional warfare, and counter-terrorism, these soldiers undergo a rigorous selection process and operate under the principles of self-sufficiency, stealth, speed, and teamwork. Here readers will discover how guerrilla forces differ from special forces and how unconventional warfare relates to both; how to conduct a raid; how to improvise explosive devices; and how special forces carry out air operations.
About the Author
---
The U.S. Department of the Army is headquartered at the Pentagon in Arlington, Virginia, and authors The Soldier's Guide, The Complete Guide to Edible Wild Plants, U.S. Army Hand-to-Hand Combat, U.S. Army First Aid Manual, U.S. Army Weapons Systems, U.S. Army Special Forces Handbook, U.S. Army Guide to Boobytraps, U.S. Army Explosives and Demolitions Handbook, U.S. Army Special Forces Guide to Unconventional Warfare, and Special Operations Forces Medical Handbook.