You are here
Back to top
Garden Wisdom and Know-How: Everything You Need to Know to Plant, Grow, and Harvest (Wisdom & Know-How) (Paperback)
ACCEPTING CREDIT CARDS AND PAYPAL
We are currently OPEN for in-store shopping from 9:30 - 4:00 Tue - Friday. 9:30 - 2:00 Sat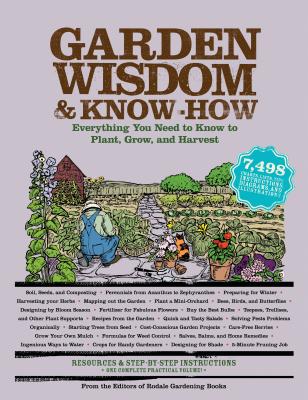 $19.99
Email or call for price.
Description
---
This complete home reference for everything you need to know about gardening--from soil and fertilizers to planting and landscaping--is now available in a convenient, compact size.Garden Wisdom & Know-How is a large-scale practical guide to planting and maintaining a garden, indoors or out. The chapters are organized by topic-garden techniques and tricks, the flower garden, the edible garden, container gardening, garden design and landscaping, attracting wildlife, and so on-and packed with information. Readers will discover tips and techniques for maintaining a garden year-round; harvesting herbs; designing by bloom season; turning garden refuse into garden rewards; building teepees, trellises, and other plant supports; and much more.
About the Author
---
Rodale publishes award-winning, best-selling titles on gardening, health, wellness, fitness, food, nutrition, inspiration/spirituality, and the environment. Some of their best-known gardening books include Rodale's Ultimate Encyclopedia of Organic Gardening, Your Backyard Herb Garden, The Complete Compost Gardening Guide, The Garden Primer, and dozens more.