You are here
Back to top
State of Terror: How Terrorism Created Modern Israel (Paperback)
Update
We are currently OPEN for in-store shopping from 9:30 - 4:00 Tue - Friday. 9:30 - 2:00 Sat
We appreciate your support while also desiring to keep your health and safety as our top priority. We are welcoming your orders through our website, or by calling the store at 802-476-3114. We also will provide curbside or local delivery once your order arrives. Thank you so much!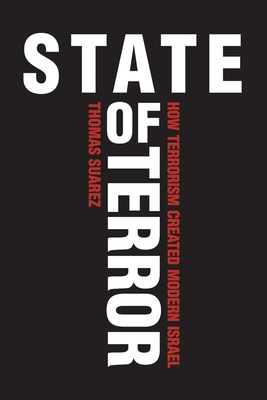 $20.00
Email or call for price.
Description
---
HOW VIOLENCE AND TERROR WERE USED BY ZIONIST MILITIAS AGAINST ARABS AND THE BRITISH TO TRANSFORM ARAB PALESTINE INTO A JEWISH STATE. ?This book shows how the use of terror by supporters of the idea of a Jewish state in Palestine was systematic, routine, and accepted by Jewish leaders as necessary to achieve their aims. At the height of the British Mandate in Palestine, terrorist acts were carried out at a frequency and with an intensity that has been largely forgotten, even though daily newspaper headlines in the US, Britain, and Palestine spoke of bombings, assassinations, and massacres against Arabs and British civilians, as well as soldiers. Suarez tells this story using the terrorists' own accounts in secret internal papers boasting of their successes, and quoting from contemporary intelligence briefings and secret diplomatic correspondence.
About the Author
---
Thomas Suárez is a London-based writer and musician. His previous works include Palestine Sixty Years Later, Early Mapping of the Pacific, and Early Mapping of Southeast Asia, this last work considered the standard text on the subject. A professional violinist, Suárez is a former faculty member of Palestine's National Conservatory of Music.
Praise For…
---
"Suárez (Palestine Sixty Years Later) passionately and meticulously exposes the terrorism committed by Zionist groups in Palestine from the post-WWI era of the British Mandate through the early years of the Israeli state. Though not a historian by trade, Suárez ably presents material from British archives, Zionist documents, and other sources to chronicle the relentless onslaught of kidnappings, shootings, and bombings committed by Zionist terror organizations. Suárez outlines the ideological origins and racialized basis of the Zionist political movement and details how groups such as Irgun and Lehi—'the terror gangs of the Mandate era'—spared few to achieve their political aims, targeting native Palestinians, British authorities, and 'uncooperative' Jews in Palestine; even WWII refugees and Jewish victims of Nazi crimes were considered fodder for Zionist political aims. He demonstrates the centrality of coercion and terror to the eventual establishment of the Israeli state and argues that the ongoing 'conflict' between Israel and the Palestinians is less an intractable collision between historic enemies than it is 'the single story' of political Zionism's 'underlying linear violence' and 'its determination to expropriate all of Palestine for a "Jewish" settler nation predicated on blood descent—"race."' Much of Suárez's work recounts episodes of violence rather than offering analysis, but it is nevertheless an impressive display of historical excavation."

"A tour de force, based on diligent archival research that looks boldly at the impact of Zionism on Palestine and its people in the first part of the 20th century. The book is the first comprehensive and structured analysis of the violence and terror employed by the Zionist movement and later the state of Israel against the people of Palestine. Much of the suffering we witness today can be explained and connected to this formative period covered thoroughly in this book."

"A chronicle of Zionist sins since the beginning of the 'settler project' in the 1920s to the 1956 Suez Crisis. London-based professional violinist and author Suárez (Palestine Sixty Years Later, 2010, etc.) is careful to first define Zionist 'terrorism' before he launches into his systematic, chronological account of how it played out in the Jewish settling of Mandatory Palestine. If terrorism means the violent targeting of civilians, then the 'ethno-national movement of Zionism,' which accomplished the appropriation of non-Jewish land over many decades, even if it meant 'making life so miserable for [Palestinians] that they [left] "of their own accord,"' certainly fit the bill. Moreover—and this is where Suárez is most sharply provocative—the early Zionists also targeted Jews themselves, such as pressuring post–World War II displaced persons to settle in Palestine as well as kidnapping Jewish orphans to keep them from being raised Christian. Not surprisingly, the author blames Europe's Zionist leaders—Chaim Weizmann, David Ben-Gurion et al.—for propounding an extraordinary kind of messianism, a biblical Israel that was 'not subject to norms applicable to the rest of the world.' Suárez concentrates on the highly organized violence of Hagana splinter groups Irgun and Lehi from 1939 through the founding of the state: both were anti-Palestinian and anti-British. Yet these terrorist groups also targeted Jewish 'traitors.' The author emphasizes the anti-Semitic nature of Zionism in creating 'a permanent state of emergency' for which a Jewish state in Palestine was the only answer. Eventually, the book becomes a lengthy litany of Zionist terrorist attacks and the employment of 'confusion and war weariness' to push for its political objectives, namely to assume all of Palestine and not just what was granted at Partition in late 1947. The author's theme is that Partition, and thus statehood, was essentially gained by Zionist terrorism. A relentless, hard-hitting, ultimately one-note polemic."