You are here
Back to top
19 Minutes to Live - Helicopter Combat in Vietnam: A Memoir by Lew Jennings (Paperback)
ACCEPTING CREDIT CARDS AND PAYPAL
We are currently OPEN
Monday - Friday 9:00 - 5:00
Sat 9:00 - 3:00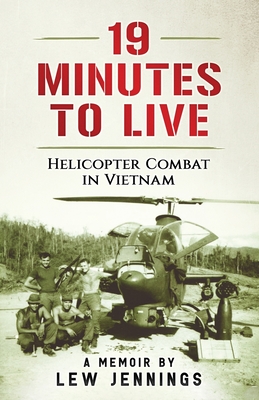 $19.95
Email or call for price.
Description
---
"19 Minutes to Live" illustrates the incredible courage and determination of helicopter pilots and crews supporting those heroes that carried a rucksack and a rifle in Vietnam. Over 12,000 helicopters were used in the Vietnam War, which is why it became known as "The Helicopter War". Almost half of the helicopters, 5,086, were lost. Helicopter pilots and crews accounted for nearly 10 percent of all the US casualties suffered in Vietnam, with nearly 5,000 killed and an untold number of wounded. Lew Jennings flew over 700 Air Cavalry Cobra Gunship Helicopter missions and received Three Distinguished Flying Crosses for Valor. This memoir describes first-hand the harrowing experiences of helicopter pilots and crews in combat operations, from the far South to the DMZ, including the infamous Ashau Valley, Hamburger Hill, LZ Airborne and others.
About the Author
---
Lew Jennings is a retired Army Officer, former airline pilot and business executive. He flew 726 Air Cavalry Cobra helicopter gunship combat missions in Vietnam, receiving over 50 combat decorations including three Distinguished Flying Crosses for Valor and 36 Air Medals. He is a Life Member of the Vietnam Helicopter Pilots Association, the Distinguished Flying Cross Society, the Disabled American Veterans, and an active member in the Experimental Aircraft Association, Old Bold Pilots and Quiet Birdmen. He and his wife Anneke live aboard their restored motor yacht in the harbor at Santa Cruz, California.