You are here
Back to top
The Christmas Barn (Hardcover)
ACCEPTING CREDIT CARDS AND PAYPAL
We are currently OPEN for in-store shopping from 9:30 - 4:00 Tue - Friday. 9:30 - 2:00 Sat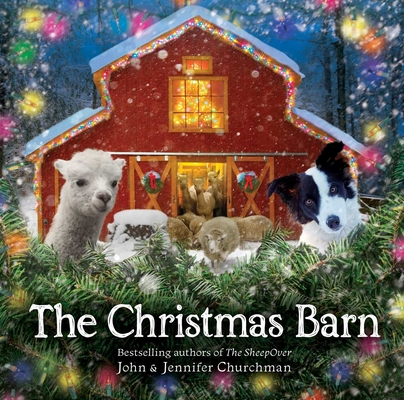 $18.99

Usually Ships in 1-5 Days
Description
---
"An affectionate, informative, and thoroughly moving holiday tale." Publishers Weekly, STARRED REVIEW

"A homemade, homey Christmas story for animal lovers." -Kirkus Reviews

This new Christmas story from the creators of the New York Times-bestselling book The SheepOver will warm your heart this holiday season!

When the Old Pine Tree cracks and falls after an autumn storm, Farmer John knows just what to do. He will give the farm animals a very special present for Christmas. He draws up a plan, and piece by piece, a structure is built, while the farm animals--sheep, dogs, chickens, geese, ducks, and some alpacas--look on in wonder at what it will be!

Join all the animals on Moonrise Farm as they watch Farmer John prepare his Christmas gift for them!
About the Author
---
John Churchman is an artist, photographer, and farmer who brings stories to life with his enchanting photo-illustrations.

Jennifer Churchman is a multimedia artist and business consultant who's loved telling stories all her life.

John and Jennifer bring their talents together to give voice to the stories of all the animals that surround them and add boundless enjoyment to their lives. They have made their home on a small farm in the beautiful countryside of Essex, Vermont, with their daughter, Gabrielle. They are the creators of The SheepOver, a New York Times-bestselling book, Brave Little Finn, A Farm for Maisie, Alpaca Lunch, and The Easter Surprise.
Praise For…
---
In this photographic picture book, the authors of the Sweet Pea & Friends series reveal how they transformed a 150-year-old tree felled by lightning into a barn as a Christmas gift for the animals on their Vermont farm. The heartwarming chronicle includes age-appropriate, often onomatopoeically rendered details, as the tree is chopped into logs and milled into boards ("Whir, whir, risp, rasp") that are used for the structure's frame, walls, roof, and doors. The indisputable stars of the book are the handsome animals themselves, each introduced by name and all clearly beloved family members-many will be familiar to readers of the Churchmans' other books. Seen in crisp, closely focused pictures, they watch over the construction with palpable friendliness and curiosity ("What can it be? What can it be?"). Perhaps most endearing are the stately alpacas, one of whom, aptly named Joy, gives birth after the animals are ushered into their new home just before Christmas. An affectionate, informative, and thoroughly moving holiday tale.
— Publishers Weekly, STARRED REVIEW

A homemade, homey Christmas story for animal lovers.
— Kirkus Reviews