You are here
Back to top
The Dry Grass of August: A Moving Southern Coming of Age Novel (Paperback)
ACCEPTING CREDIT CARDS AND PAYPAL
We are currently OPEN
Monday - Friday 9:00 - 5:00
Sat 9:00 - 3:00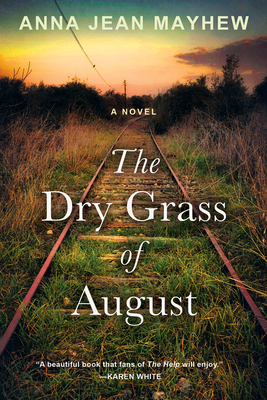 $16.95

Usually Ships in 1-5 Days
Description
---
"Taut, thoughtful, and complex." —Publishers Weekly

Set in 1950s North Carolina, Anna Jean Mayhew's instant classic coming of age novel, which evokes the writing of Sue Monk Kidd, is a heartwarming, vividly transporting depiction of Southern life in the throes of segregation, what it will mean for a young girl on her way to adulthood—and for the woman who means the world to her…

**Includes an updated discussion guide and new letter to readers from Anna Jean Mayhew!

On a scorching day in August 1954, thirteen-year-old Jubie Watts leaves Charlotte, North Carolina, with her family for a Florida vacation. Crammed into the Packard along with Jubie are her three siblings, her mother, and the family's black maid, Mary Luther. For as long as Jubie can remember, Mary has been there—cooking, cleaning, compensating for her father's rages and her mother's benign neglect, and loving Jubie unconditionally.

Bright and curious, Jubie takes note of the anti-integration signs they pass, and of the racial tension that builds as they journey further south. But she could never have predicted the shocking turn their trip will take. Now, in the wake of tragedy, Jubie must confront her parents' failings and limitations, decide where her own convictions lie, and make the tumultuous leap to independence . . .

Infused with the intensity of a changing time, here is a story of hope, heartbreak, and the love and courage that can transform us—from child to adult, from wounded to indomitable.
About the Author
---
Anna Jean Mayhew is the author of Tomorrow's Bread and the Sir Walter Raleigh Award-winning novel The Dry Grass of August. A native of Charlotte, North Carolina, she was a member of the first Board of Trustees of the North Carolina Writers' Network and a former writer-in-residence at Moulin à Nef Studio Center in Auvillar, France. Her work reflects her vivid memories of growing up in the segregated South. She now lives in a small town in the North Carolina Piedmont with her husband and their French-speaking cat. For more information, please visit her online at: AnnaJeanMayhew.com.
Praise For…
---
Praise for The Dry Grass of August

"A superior book to The Help." —North Carolina Literary Review
 
"Once you've experienced The Dry Grass of August, you'll swiftly see that Anna Jean Mayhew's debut novel deserves all the early praise it's getting…the power, bravery and beauty of Mayhew's narrative is beyond contestation and well-deserving of a wide readership." —BookPage

"Mayhew keeps the story taut, thoughtful and complex, elevating it from the throng of coming-of-age books." —Publishers Weekly
 
"Beautifully written, with complex characters, an urgent plot, and an ending so shocking and real it had me in tears." —Eleanor Brown, New York Times bestselling author of The Weird Sisters

"A must-read for fans of The Help." —Woman's World

"Because the novel is totally true to Jubie's point of view, it generates gripping drama as we watch her reach beyond authority to question law and order." —Booklist

"A masterful work of blending time and place."  —The Charlotte Observer

"A beautifully written and important novel. Set in the 1950s South, it deals with race relations in an original, powerful way. It's also a great story about complicated family relationships, told with humor, delicacy, and penetrating insight. I wish I had written this book." —Angela Davis-Gardner, author of Butterfly's Child

"Anna Jean Mayhew has a true ear for Southern speech…The Dry Grass of August is a carefully researched, beautifully written, quietly told tale of love and despair and a look backward at the way it was back then in the South." —The Pilot (Southern Pines, North Carolina)

"A beautiful book that fans of The Help will enjoy." —Karen White, New York Times bestselling author

"An extraordinary, absorbing novel." —Historical Novel Reviews