You are here
Back to top
Travel Home: Design with a Global Spirit (Hardcover)
Covid-19 Update
We are currently OPEN for in-store shopping from 10:00 - 4:00 Wed - Saturday.
We appreciate your support while also desiring to keep your health and safety as our top priority. We are welcoming your orders through our website, or by calling the store at 802-476-3114. We also will provide curbside or local delivery once your order arrives. Thank you so much and be safe!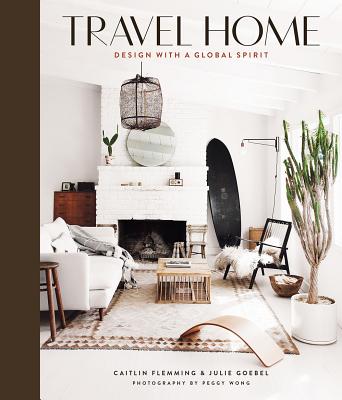 $40.00
Email or call for price.
About the Author
---
Caitlin Flemming is an interior designer, stylist, and founder of the style and interior design blog Sacramento Street. Julie Goebel is the founder of Travelers Conservation Foundation. Her design work can be found in the San Francisco Chronicle, Better Homes & Gardens, and Romantic Homes. They both live in San Francisco.
Praise For…
---
"Upon finishing Travel Home I felt inspired in the same way that I feel inspired after a big trip. It's a book you're going to want to take notes in, take pictures of, and share with your friends. It will be a book very well loved."

— Justina Blakeney

"There are so many books about interiors, but this book is a genuine opportunity to get to know the people and the mentality behind their spaces."

— Nate Berkus and Jeremiah Brent

"Travel Home is a feast for the eyes. The personal pictures, alongside interviews with the homeowners about their journeys, speak to the places travelers are dreaming of today."

— Emily Nathan

"The book is a study of how travel informs our taste—and a beautiful illustration of the creative potential a mother-daughter partnership can yield."
— GOOP

"If you buy one design book this year, let it be Travel Home: Design with a Global Spirit. From mother-daughter duo Caitlin Flemming and Julie Goebel, it's a celebration of beautiful design, encouraging readers to "curate interiors that reflect your favorite places and experiences in ways that are beautiful and authentic."
— Rue

"In Travel Home, the authors take readers on a visual journey, stopping to visit over a dozen creative homeowners—including the likes of Nate Berkus, Jeremiah Brent, Justina Blakeney, and John Robshaw—in all corners of the globe, whose personal spaces have been indelibly influenced by travel."
— House Beautiful

"Travel Home will inspire you to design adventurously."
— Lonny

"The book is full of inspiration and stories that will ignite your desire to hop on a plane and explore."
— Amber Interiors

"So what's the must-have design book for Fall 2019? Without a doubt, it's Travel Home by Caitlin Flemming and Julie Goebel."
— Anne Sage

"Offering a peek inside the homes of tastemakers all over the world, the book is like a masterclass in how to infuse the ideas and finds you scoop up on the road into your digs back home."
— Chairish

"This is one of those home design books that i get really excited to share, because not only does it feature beautiful and inspiring interiors, it also inspires you to travel and to bring back a bit of your 'mental mementos' and incorporate that culture and your personal experiences into your home design."
— SFgirlbybay