You are here
Back to top
Wildfire (Paperback)
Covid-19 Update
We are currently OPEN for in-store shopping from 10:00 - 4:00 Wed - Saturday.
We appreciate your support while also desiring to keep your health and safety as our top priority. We are welcoming your orders through our website, or by calling the store at 802-476-3114. We also will provide curbside or local delivery once your order arrives. Thank you so much and be safe!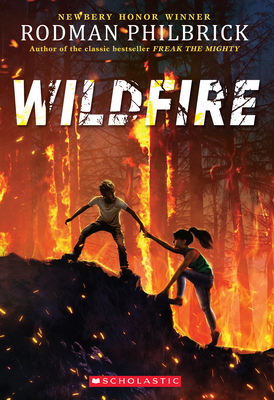 $7.99

Usually Ships in 1-5 Days
Description
---
Newbery Honor author Rodman Philbrick sends readers straight into the nightmare of a raging wildfire as 12-year-old Sam is trapped by explosive flames and deadly smoke that threaten to take his life. Can he survive?
Flames race toward Sam Castine's summer camp as evacuation buses are loading, but Sam runs back to get his phone. Suddenly, a flash of heat blasts him as pine trees explode. Now a wall of fire separates Sam from his bus, and there's only one thing to do: Run for his life. Run or die.
Lungs burning, Sam's only goal is to keep moving. Drought has made the forest a tinderbox, and Sam struggles to remember survival tricks he learned from his late father. Then, when he least expects it, he encounters Delphy, an older girl who is also lost. Their unlikely friendship grows as they join forces to find civilization.
The pace never slows, and eventually flames surround Sam and Delphy on all sides. A powerful bond is forged that can only grow out of true hardship -- as two true friends beat all odds and outwit one of the deadliest fires ever.
At the end of the novel, information about wildfires and useful safety tips add to the reader's understanding of one of the world's most dangerous natural disasters.
About the Author
---
Newbery Honor author Rodman Philbrick has written more than a dozen novels for young readers. In 1993, he published his first children's book, Freak the Mighty, which became an instant classic, and was made into a feature film. The Mostly True Adventures of Homer P. Figg was a 2010 Newbery Honor Book. Philbrick's other acclaimed novels include Max the Mighty, The Young Man and the Sea, The Last Book in the Universe, Zane and the Hurricane, and Wildfire. Philbrick divides his time between Maine and the Florida Keys. You can learn more about him on his website: rodmanphilbrick.com.
Praise For…
---
Praise for Wildfire:
* "An intense tale of survival and action." -- School Library Journal, starred review
* "Short chapters, outstanding cover art, and a breathless pace make this a fine choice for reluctant readers. Outstanding suspense." -- Kirkus Reviews, starred review
* "Action lovers will relish every word. With Wildfire -- reminiscent of Hatchet and the real-life saga Lost on a Mountain in Maine -- Philbrick transforms a raging inferno into an impressively plotted escape story full of heart and soul." -- BookPage, starred review
Praise for Zane and the Hurricane: A Story of Katrina:
* "An appropriately serious and occasionally gruesome tale of surviving Hurricane Katrina, buoyed by large doses of hope and humor." -- Kirkus Reviews, starred review
Praise for The Mostly True Adventures of Homer P. Figg:
A Newbery Honor Book
"A swashbuckling and humorous tale of adventure." -- The Boston Globe
* "A rip-roaring adventure." -- Publishers Weekly, starred review
"A captivating read." -- The Horn Book
Praise for The Young Man and the Sea:
* "This excellent maritime bildungsroman has all the makings of a juvenile classic." -- School Library Journal, starred review
Praise for Freak the Mighty:
* "A wonderful story... memorable and luminous... somewhat different and very special." -- School Library Journal, starred review
Praise for Wildfire:
* "An intense tale of survival and action." -- School Library Journal, starred review
* "Short chapters, outstanding cover art, and a breathless pace make this a fine choice for reluctant readers. Outstanding suspense." -- Kirkus Reviews, starred review
* "Action lovers will relish every word. With Wildfire -- reminiscent of Hatchet and the real-life saga Lost on a Mountain in Maine -- Philbrick transforms a raging inferno into an impressively plotted escape story full of heart and soul." -- BookPage, starred review
Praise for Zane and the Hurricane: A Story of Katrina:
* "An appropriately serious and occasionally gruesome tale of surviving Hurricane Katrina, buoyed by large doses of hope and humor." -- Kirkus Reviews, starred review
Praise for The Mostly True Adventures of Homer P. Figg:
A Newbery Honor Book
"A swashbuckling and humorous tale of adventure." -- The Boston Globe
* "A rip-roaring adventure." -- Publishers Weekly, starred review
"A captivating read." -- The Horn Book
Praise for The Young Man and the Sea:
* "This excellent maritime bildungsroman has all the makings of a juvenile classic." -- School Library Journal, starred review
Praise for Freak the Mighty:
* "A wonderful story... memorable and luminous... somewhat different and very special." -- School Library Journal, starred review