You are here
Back to top
Restart (Hardcover)
Covid-19 Update
We are currently OPEN for in-store shopping from 10:00 - 4:00 Wed - Saturday.
We appreciate your support while also desiring to keep your health and safety as our top priority. We are welcoming your orders through our website, or by calling the store at 802-476-3114. We also will provide curbside or local delivery once your order arrives. Thank you so much and be safe!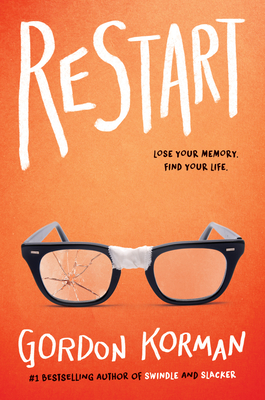 $17.99

Usually Ships in 1-5 Days
Description
---
The amazing New York Times bestseller about what you can do when life gives you a second chance.
Chase's memory just went out the window.
Chase doesn't remember falling off the roof. He doesn't remember hitting his head. He doesn't, in fact, remember anything. He wakes up in a hospital room and suddenly has to learn his whole life all over again... starting with his own name.
He knows he's Chase. But who is Chase? When he gets back to school, he sees that different kids have very different reactions to his return.
Some kids treat him like a hero. Some kids are clearly afraid of him.
One girl in particular is so angry with him that she pours her frozen yogurt on his head the first chance she gets.
Pretty soon, it's not only a question of who Chase is -- it's a question of who he was... and who he's going to be.
From the #1 bestselling author of Swindle and Slacker, Restart is the spectacular story of a kid with a messy past who has to figure out what it means to get a clean start.
About the Author
---
GORDON KORMAN is a beloved author of over ninety-five novels for young readers, including hilarious middle-grade classics such as the Macdonald Hall series, I Want to Go Home and Slacker. Born in Montreal, Quebec, Gordon grew up in Thornhill, Ontario, and now lives in New York with his family. Visit him online at www.gordonkorman.com.
Praise For…
---
Praise for Restart:* "A fresh approach to the familiar topic of bullying, kept credible by believable characters and events, with typical Korman humor and just the right touch of mystery." -- School Library Journal, starred review"In this compelling and sometimes hmorous tale of nature and identity, Korman offers an intriguing exploration of the potential for redemption." -- Publishers Weekly"Korman's trademark humor makes this an appealing read." -- Kirkus Reviews Praise for Swindle:"Scary, funny, and hysterical adventures!" -- Chicago Tribune"Pure fun from top to bottom." -- School Library JournalPraise for Ungifted:"A gem for readers looking for a book where the underdog comes out on top." -- Voice of Youth Advocates"Funny and insightful." -- Publishers WeeklyPraise for Schooled:* "This rewarding novel features an engaging main character and some memorable moments of comedy, tenderness, and reflection." -- Booklist, starred reviewPraise for The Hypnotists:"Fast-paced... an entertaining mix of intense action and goofy fun." -- Publishers Weekly

Praise for Restart:* "A fresh approach to the familiar topic of bullying, kept credible by believable characters and events, with typical Korman humor and just the right touch of mystery." -- School Library Journal, starred review"In this compelling and sometimes hmorous tale of nature and identity, Korman offers an intriguing exploration of the potential for redemption." -- Publishers Weekly"Korman's trademark humor makes this an appealing read." -- Kirkus Reviews Praise for Swindle:"Scary, funny, and hysterical adventures!" -- Chicago Tribune"Pure fun from top to bottom." -- School Library JournalPraise for Ungifted:"A gem for readers looking for a book where the underdog comes out on top." -- Voice of Youth Advocates"Funny and insightful." -- Publishers WeeklyPraise for Schooled:* "This rewarding novel features an engaging main character and some memorable moments of comedy, tenderness, and reflection." -- Booklist, starred reviewPraise for The Hypnotists:"Fast-paced... an entertaining mix of intense action and goofy fun." -- Publishers Weekly