You are here
Back to top
Eight Days in May: The Final Collapse of the Third Reich (Paperback)
ACCEPTING CREDIT CARDS AND PAYPAL
We are currently OPEN
Monday - Friday 9:00 - 5:00
Sat 9:00 - 3:00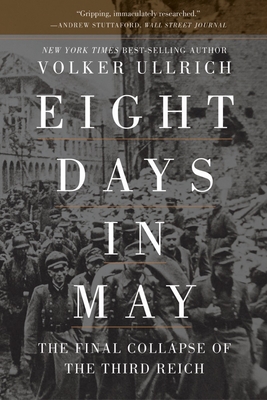 $18.95

Usually Ships in 1-5 Days
Description
---
"[G]ripping, immaculately researched . . . In Mr. Ullrich's account, the murderous behavior of the Reich's last-ditch loyalists was not a reaction born of rage or of stubbornness in the face of defeat—common enough in war—but of something that had long ago tipped over into the pathological." —Andrew Stuttaford, Wall Street Journal



The best-selling author of Hitler: Ascent and Hitler: Downfall reconstructs the chaotic, otherworldly last days of Nazi Germany.
In a bunker deep below Berlin's Old Reich Chancellery, Adolf Hitler and his new bride, Eva Braun, took their own lives just after 3:00 p.m. on April 30, 1945—Hitler by gunshot to the temple, Braun by ingesting cyanide. But the Führer's suicide did not instantly end either Nazism or the Second World War in Europe. Far from it: the eight days that followed were among the most traumatic in modern history, witnessing not only the final paroxysms of bloodshed and the frantic surrender of the Wehrmacht, but the total disintegration of the once-mighty Third Reich.
In Eight Days in May, the award-winning historian and Hitler biographer Volker Ullrich draws on an astonishing variety of sources, including diaries and letters of ordinary Germans, to narrate a society's descent into Hobbesian chaos. In the town of Demmin in the north, residents succumbed to madness and committed mass suicide. In Berlin, Soviet soldiers raped German civilians on a near-unprecedented scale. In Nazi-occupied Prague, Czech insurgents led an uprising in the hope that General George S. Patton would come to their aid but were brutally put down by German units in the city. Throughout the remains of Third Reich, huge numbers of people were on the move, creating a surrealistic tableau: death marches of concentration-camp inmates crossed paths with retreating Wehrmacht soldiers and groups of refugees; columns of POWs encountered those of liberated slave laborers and bombed-out people returning home.
A taut, propulsive narrative,
Eight Days in May
takes us inside the phantomlike regime of Hitler's chosen successor, Admiral Karl Dönitz, revealing how the desperate attempt to impose order utterly failed, as frontline soldiers deserted and Nazi Party fanatics called on German civilians to martyr themselves in a last stand against encroaching Allied forces. In truth, however, the post-Hitler government represented continuity more than change: its leaders categorically refused to take responsibility for their crimes against humanity, an attitude typical not just of the Nazi elite but also of large segments of the German populace. The consequences would be severe.
Eight Days in May
is not only an indispensable account of the Nazi endgame, but a historic work that brilliantly examines the costs of mass delusion.
About the Author
---
Ullrich Volker is a prize-winning historian and the author of Hitler: Ascent, 1889–1939, Hitler: Downfall, 1939–1945, and Eight Days in May: The Final Collapse of the Third Reich. He lives in Hamburg.

Jefferson Chase has translated works by Thomas Mann and Wolfgang Schivelbusch, among others. He lives in Berlin.
Praise For…
---
[G]ripping, immaculately researched . . . In Mr. Ullrich's account, the murderous behavior of the Reich's last-ditch loyalists was not a reaction born of rage or of stubbornness in the face of defeat—common enough in war—but of something that had long ago tipped over into the pathological.
— Andrew Stuttaford - Wall Street Journal

[V]ivid, fast-paced . . . Superbly researched, Eight Days in May communicates the pity of Hitler's war and its aftermath with sympathy and an impressive narrative verve.

— Ian Thomson - The Spectator (UK)

[E]xcellent . . . It still must be hard for a German scholar to be entirely dispassionate about what was done in (still, just) living memory.
— David Aaronovitch - The Times (UK)

This vivid account by historian Ullrich (Hitler: Downfall) renders the death throes of the Third Reich in riveting detail... This immersive and often disturbing chronicle brilliantly evokes a surreal moment in history that gave 'the impression of apocalypse on the one hand and of a new beginning on the other.

— Publishers Weekly, starred review

[R]ichly textured... A vital and often vibrant account of eight days when people all across Europe were suspended in confusion and chaos.
— Kirkus Reviews

Ullrich provides a sweeping view of Germany's collapse: he documents the regime's last-minute power struggles, sexual violence and plundering inflicted by the Soviet army, death marches and massacres of prisoners of war and forced laborers by diehard Nazis, and brutal sieges and battles... expertly researched and written.
— Michael Rodriguez - Library Journal