You are here
Back to top
Murder in the City: New York, 1910-1920 (Hardcover)
Covid-19 Update
We are currently OPEN for in-store shopping from 10:00 - 4:00 Wed - Saturday.
We appreciate your support while also desiring to keep your health and safety as our top priority. We are welcoming your orders through our website, or by calling the store at 802-476-3114. We also will provide curbside or local delivery once your order arrives. Thank you so much and be safe!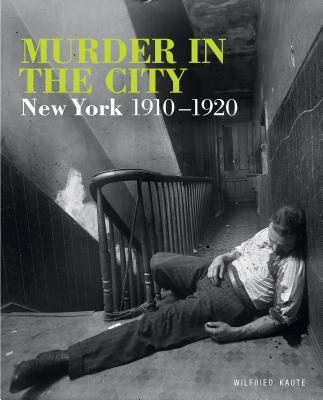 $35.00
Email or call for price.
Description
---
When night falls on New York, the shadows are everywhere and death wears many faces. How the victims leave their bodies is deeply personal, but the witnesses to their death and the factors that brought it about belong to the public world—a somber world which is encapsulated in this gruesome survey of crime and violence in the 1910s.
Parts of the city that are today among its trendiest neighborhoods were once the battlegrounds of evil forces, which left their mark in unforgettable ways. Here, newspaper clippings, police reports and testimonies are placed alongside the scenes that they describe, fleshing them out and giving life to the departed.
Complete with an introduction from German actor and writer Joe Bausch, this book is a must for anyone who has ever anxiously imagined how dark an activity like dying can be—and isn't that everyone?
About the Author
---
WILFRIED KAUTE, born in Duisburg, Germany, in 1948, works as a cameraman, film producer, and author in Cologne. His projects include many award-winning films and TV productions. Murder in the City: New York, 1910-1920 is his first book.
Praise For…
---
MURDER IN THE CITY, Willfried Kaute (TLD): The crime-scene photographs featured in this grisly collection were discovered during a renovation of the former NYPD headquarters. As filmmaker and author Kaute explains, the images were intended as purely objective documentation of crimes and offer little to no personal identification of the victims. The photographs show the slain lying supine on sidewalks or in the stairwells and bedrooms of cramped tenement buildings, their faces and wounds unobscured. The causes of death are at times specified and stem from such causes as domestic disputes, gang-related entanglements, and personal grievances. Despite the explicit violence of the photographs, they also contain a haunting intimacy: the dead are often surrounded by the trappings of their home lives, such as pictures on the walls and cherished personal trinkets. Essays by Kaute and German writer Joe Bausch contextualize the early use of crime-scene photography, while excerpted newspaper accounts elaborate on and sometimes sensationalize the various crimes. The book serves as an emotionally arresting window into the city's tumultuous past that may be disturbing to many readers. B&W photos. -- Publishers Weekly