You are here
Back to top
Hiroshima (Paperback)
Update
We are currently OPEN for in-store shopping from 9:30 - 4:00 Tue - Friday. 9:30 - 2:00 Sat
We appreciate your support while also desiring to keep your health and safety as our top priority. We are welcoming your orders through our website, or by calling the store at 802-476-3114. We also will provide curbside or local delivery once your order arrives. Thank you so much!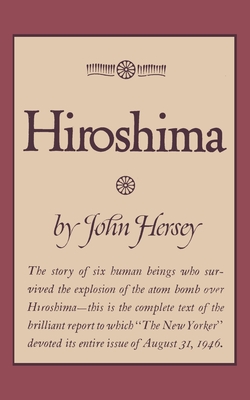 $19.95
Email or call for price.
Description
---
When the atomic bomb was dropped on Hiroshima, few could have anticipated its potential for devastation. Pulitzer prize-winning author John Hersey recorded the stories of Hiroshima residents shortly after the explosion and, in 1946, Hiroshima was published, giving the world first-hand accounts from people who had survived it. The words of Miss Sasaki, Dr. Fujii, Mrs. Nakamara, Father Kleinsorg, Dr. Sasaki, and the Reverend Tanimoto gave a face to the statistics that saturated the media and solicited an overwhelming public response. Whether you believe the bomb made the difference in the war or that it should never have been dropped, "Hiroshima" is a must read for all of us who live in the shadow of armed conflict.