You are here
Back to top
Sean Scherer's Kabinett & Kammer: Creating Authentic Interiors (Hardcover)
Covid-19 Update
We are currently OPEN for in-store shopping from 10:00 - 4:00 Wed - Saturday.
We appreciate your support while also desiring to keep your health and safety as our top priority. We are welcoming your orders through our website, or by calling the store at 802-476-3114. We also will provide curbside or local delivery once your order arrives. Thank you so much and be safe!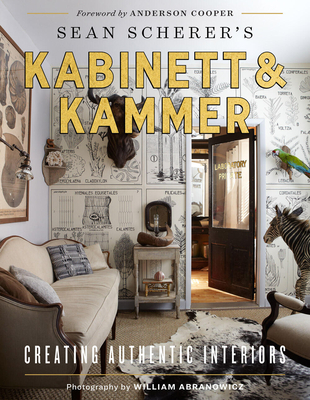 $35.00

Usually Ships in 1-5 Days
Description
---
Interior designer, artist, and collector Sean Scherer shares his secrets about applying the principles of two-dimensional art to home design
Sean Scherer's Kabinett & Kammeris equally a celebration and a guide to both collecting and showing how lively design can integrate disparate objects into beautifully layered ensembles. Scherer's interiors feature vintage display cabinets housing discarded collections of whittled songbirds, stunning 19th-century maps and school teaching aids, ferns in cast-iron planters, and photomurals. The effect is a supercharged nod to American Gothic heightened by Scherer's sophisticated palette and sense of proportion. Each photograph by William Abranowicz is a lesson on color and texture, focal points, and room size. With a foreword by Anderson Cooper, whose house Scherer helped design, Kabinett & Kammer demonstrates that though styles fluctuate and tastes are unique, the principles of design are immutable, and good design is good design.
About the Author
---
Sean Scherer studied at the School of the Art Institute of Chicago and the Independent Study Program of the Whitney Museum of American Art in New York. His paintings have been shown extensively in North America and Europe. In 2002 he moved to the Catskills, where he opened his shop, Kabinett & Kammer, a contemporary curiosity shop of antiques, natural wonders, and art that serves as a visual medical, botanical, and zoological design resource. His art and design work has been featured in the New York Times and elsewhere. For fifteen years, until 2020, Scherer taught art history and design at the State University of New York at Oneonta. William Abranowicz's photographs are in collections worldwide and have appeared in nearly every major publication. His books include American Originals: Creative Interiors. Anderson Cooper is the anchor of the CNN news show Anderson Cooper 360°.

Praise For…
---
"In this book, Sean Scherer shows us all how to create unique sanctuaries for ourselves. . . Imaginative spaces that are authentic and honest, designed to be lived in and loved."
— Anderson Cooper

"The book is a keeper. A must have on my list."
— Robert Rufino

"Sean Scherer curates a beguiling assemblage. . . Expect anything from visual teaching aids to scientific ephemera."
— Veranda

"If you love vintage, Kabinett & Kammer offers inspiration (and looks good on the coffee table to boot)."
— Country Living

"The Kabinett & Kammer store is a lesson in rarities. Think vintage taxidermy, old school botanical prints, 19th century furniture, specimen shells and science class models. Expect to find just as many objets d'art scattered across the pages of Scherer's book, as well as a newfound desire to go antiquing."
— Modern Luxury

"Sean Scherer's Kabinett & Kammer: Creating Authentic Interiors offers a refreshingly vintage-inspired, unfussy and masculine take on interior design. . . . You'll want to add this to your library immediately."
— Airows

"Fascinated by collecting antiques but not sure where to start? Pick up Scherer's book, which is part guide to creating layered interiors, part portfolio of spaces that do it right."
— House Beautiful

"Sean Scherer's Kabinett & Kammer is a visual feast for collectors, full of ideas for displaying beloved objects."
— Martha Stewart Living

"Anyone who has ever fallen in love with an old object will be able to relate to the book, which is filled with examples from Scherer's beloved Catskills shop, his own home and that of famous and everyday clients. . . . Along with fascinating photos, Scherer includes advice about living with color, how to use ordinary objects in unexpected ways, how to rein in collections and hoot make the most of texture."
— Detroit News