You are here
Back to top
One Soldier's War (Paperback)
Update
We are currently OPEN for in-store shopping from 9:30 - 4:00 Tue - Friday. 9:30 - 2:00 Sat
We appreciate your support while also desiring to keep your health and safety as our top priority. We are welcoming your orders through our website, or by calling the store at 802-476-3114. We also will provide curbside or local delivery once your order arrives. Thank you so much!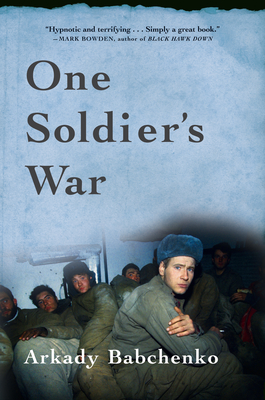 $18.00

Usually Ships in 1-5 Days
Description
---
One Soldier's War is a visceral and unflinching memoir of a young Russian soldier's experience in the Chechen wars that brilliantly captures the fear, drudgery, chaos, and brutality of modern combat. An excerpt of the book was hailed by Tibor Fisher in the Guardian as "right up there with Catch-22 and Michael Herr's Dispatches," and the book won Russia's inaugural Debut Prize, which recognizes authors who write "despite, not because of, their life circumstances." In 1995, Arkady Babchenko was an eighteen-year-old law student in Moscow when he was drafted into the Russian army and sent to Chechnya. It was the beginning of a torturous journey from na ve conscript to hardened soldier that took Babchenko from the front lines of the first Chechen War in 1995 to the second in 1999. He fought in major cities and tiny hamlets, from the bombed-out streets of Grozny to anonymous mountain villages. Babchenko takes the raw and mundane realities of war--the constant cold, hunger, exhaustion, filth, and terror--and twists it into compelling, haunting, and eerily elegant prose. Acclaimed by reviewers around the world, this is a devastating first-person account of war by an extraordinary storyteller.