You are here
Back to top
The Fourth Enemy: A Daniel Pitt Novel (Hardcover)
ACCEPTING CREDIT CARDS AND PAYPAL
We are currently OPEN
Monday - Friday 9:00 - 5:00
Sat 9:00 - 3:00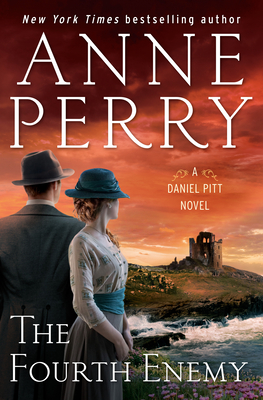 $28.99

Usually Ships in 1-5 Days
Description
---
Daniel Pitt is under pressure to prosecute a beloved philanthropist whose good deeds may hide dark—and dangerous—secrets, in this gripping mystery from New York Times bestselling author Anne Perry.

Working his way up at the London law firm fford Croft and Gibson, Daniel Pitt is named junior counsel on a fraud case with the potential to make or break his—and the firm's—reputation. The trouble is, Malcolm Vayne, the man on trial, has deep pockets, and even deeper connections. Vayne's philanthropic efforts paint him a hero in the eyes of the public, but Daniel's friend Ian, a police officer, has evidence to suggest otherwise. Nervously working alongside Gideon Hunter, the new head of his firm, Daniel must find a way to prove that Vayne is guilty.

Meanwhile, Daniel's new bride, forensic scientist Miriam fford Croft, befriends Rose Hunter, Gideon's wife, and the two become engrossed in the women's suffrage movement. Miriam finds herself among women who are brave and determined enough to undergo hunger strikes and prison sentences. Vayne's image is improved by his support of their cause, but Miriam is not deceived.

Vayne's trial reveals his deep political ambitions, and it heats up further when a crucial witness is found dead. When another witness is kidnapped, Daniel must set out on a rescue mission that puts his life—and the case against Vayne—in peril. 

Anne Perry delivers another pulse-pounding mystery in her latest stand-alone Daniel Pitt novel.
About the Author
---
Anne Perry was the bestselling author of two acclaimed series set in Victorian England: the William Monk novels and the Charlotte and Thomas Pitt novels. She was also the author of a series featuring Charlotte and Thomas Pitt's son, Daniel, as well as the Elena Standish series; a series of five World War I novels; twenty-one holiday novels; and a historical novel, The Sheen on the Silk, set in the Byzantine Empire. Anne Perry died in 2023.
Praise For…
---
Paise for The Fourth Enemy

"[Anne] Perry's courtroom drama . . . increases in intensity as the author craftily captures the reader's attention. The richly atmospheric tale brings the summer of 1912 to detail-rich life, from Titanic headlines to Miriam's bright-red Speedster."—Booklist

"Set in 1912, bestseller Perry's strong sixth Daniel Pitt novel (after 2021's Three Debts Paid) finds London barrister Daniel facing major changes in his professional life. . . . The author cleverly makes the most of a plotline not centered on a crime of violence. Four decades after her debut, Perry shows no sign of losing steam."—Publishers Weekly (starred review)

"Barrister Daniel Pitt is thrown into the prosecution of a powerful man accused of a swindle that will remind readers of much more recent times than 1912. . . . [The Fourth Enemy is] familiar fare well served in Perry's plush, comfortable prose."—Kirkus Reviews

Praise for Three Debts Paid

"The prolific Ms. Perry is expert at summoning the looks and moods of her books' chosen periods, and her characters, from working-class to upper-crust, are well-drawn and engaging. . . . The solution to the mystery [provides] an undeniable jolt."—The Wall Street Journal

"As with the Thomas Pitt stories, author Perry fills her novels with commentaries on the social mores of the times, as well as its legal aspects, giving a mini-history of the period while weaving a complex tale of mystery and murder told from the point of view of Pitt's son, Daniel."—New York Journal of Books

"Perry has another winner on her hands. Once again she is not afraid to show the dark side of the human condition, and she does so with such impeccable style."—Bookreporter

Praise for Death with a Double Edge

"Timely . . . and engaging . . . another terrific mystery."—Bookreporter

"[A] veritable page-turner . . . Perry is a skilled craftsperson, and she delivers an exciting and satisfying resolution."—Historical Novel Society

"Brava Anne Perry—long may we continue to follow the exploits of the Pitt family."—Criminal Element