You are here
Back to top
Hiroshima (Paperback)
Covid-19 Update
We are currently OPEN for in-store shopping from 10:00 - 4:00 Wed - Saturday.
We appreciate your support while also desiring to keep your health and safety as our top priority. We are welcoming your orders through our website, or by calling the store at 802-476-3114. We also will provide curbside or local delivery once your order arrives. Thank you so much and be safe!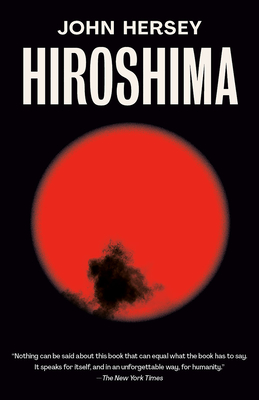 $12.00

Usually Ships in 1-5 Days
Description
---
Hiroshima is the story of six people—a clerk, a widowed seamstress, a physician, a Methodist minister, a young surgeon, and a German Catholic priest—who lived through the greatest single manmade disaster in history. In vivid and indelible prose, Pulitzer Prize–winner John Hersey traces the stories of these half-dozen individuals from 8:15 a.m. on August 6, 1945, when Hiroshima was destroyed by the first atomic bomb ever dropped on a city, through the hours and days that followed. Almost four decades after the original publication of this celebrated book, Hersey went back to Hiroshima in search of the people whose stories he had told, and his account of what he discovered is now the eloquent and moving final chapter of Hiroshima.
About the Author
---
JOHN HERSEY was born in Tientsin, China, in 1914 and lived there until 1925, when his family returned to the United States. He studied at Yale and Cambridge, served for a time as Sinclair Lewis's secretary, and then worked several years as a journalist. Beginning in 1947 he devoted his time mainly to writing fiction. He won the Pulitzer Prize, taught for two decades at Yale, and was president of the Authors League of America and Chancellor of the American Academy of Arts and Letters. John Hersey died in 1993.
Praise For…
---
"Nothing can be said about this book that can equal what the book has to say. It speaks for itself, and in an unforgettable way, for humanity." —The New York Times

"One of the great classics of the war." —The New Republic

"Everyone able to read should read it." —Saturday Review of Literature