You are here
Back to top
Magnum Contact Sheets (Paperback)
Covid-19 Update
We are currently OPEN for in-store shopping from 10:00 - 4:00 Wed - Saturday.
We appreciate your support while also desiring to keep your health and safety as our top priority. We are welcoming your orders through our website, or by calling the store at 802-476-3114. We also will provide curbside or local delivery once your order arrives. Thank you so much and be safe!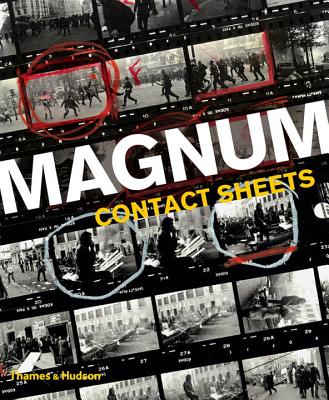 $60.00

Usually Ships in 1-5 Days
Description
---
At their best, the pictures add to our understanding of the surface event documented and reveal something profound about the people pushing that history forward. — The Los Angeles Times
Available for the first time in an accessible paperback edition, this groundbreaking book presents a remarkable selection of contact sheets and ancillary material, revealing how the most celebrated Magnum photographers capture and edit the very best shots. Addressing key questions of photographic practice, the book illuminates the creative methods, strategies, and editing processes behind some of the world's most iconic images.
Featured are 139 contact sheets from sixty- nine photographers, as well as zoom-in details, selected photographs, press cards, notebooks, and spreads from contemporary publications including Life magazine and Picture Post. Further insight into each contact sheet is provided by texts written by the photographers themselves or by experts chosen by the members' estates. Many of the acknowledged greats of photography are featured, including Henri Cartier- Bresson, Elliott Erwitt, and Inge Morath, as well as such members of Magnum's latest generation as Jonas Bendiksen, Alessandra Sanguinetti, and Alec Soth. The contact sheets cover over seventy years of history, from Robert Capa's Normandy landings and the Paris riots of 1968 via Bruno Barbey, to images of Che Geuvara by René Burri, Malcolm X by Eve Arnold, and portraits of classic New Yorkers by Bruce Gilden.
About the Author
---
Kristen Lubben is the Associate Curator at the International Center of Photography in New York. Her previous books include Susan Meiselas: In History and Amelia Earhart: Image and Icon.