You are here
Back to top
Island Infernos: The US Army's Pacific War Odyssey, 1944 (Hardcover)
Covid-19 Update
We are currently OPEN for in-store shopping from 10:00 - 4:00 Wed - Saturday.
We appreciate your support while also desiring to keep your health and safety as our top priority. We are welcoming your orders through our website, or by calling the store at 802-476-3114. We also will provide curbside or local delivery once your order arrives. Thank you so much and be safe!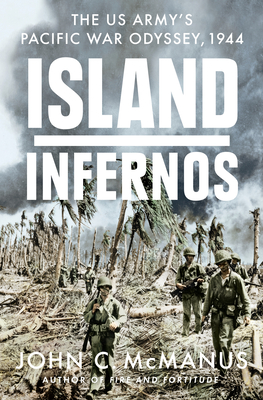 $35.00

Usually Ships in 1-5 Days
Description
---
In Fire and Fortitude—winner of the Gilder Lehrman Prize for Military History—John C. McManus presented a riveting account of the US Army's fledgling fight in the Pacific following Pearl Harbor. Now, in Island Infernos, he explores the Army's dogged pursuit of Japanese forces, island by island, throughout 1944, a year that would bring America ever closer to victory or defeat.

After some two years at war, the Army in the Pacific held ground across nearly a third of the globe, from Alaska's Aleutians to Burma and New Guinea. The challenges ahead were enormous: supplying a vast number of troops over thousands of miles of ocean; surviving in jungles ripe with dysentery, malaria, and other tropical diseases; fighting an enemy prone to ever-more desperate and dangerous assaults. Yet the Army had proven they could fight. Now, they had to prove they could win a war.

Brilliantly researched and written, Island Infernos moves seamlessly from the highest generals to the lowest foot soldiers and in between, capturing the true essence of this horrible conflict. A sprawling yet page-turning narrative, the story spans the battles for Saipan and Guam, the appalling carnage of Peleliu, General MacArthur's dramatic return to the Philippines, and the grinding jungle combat to capture the island of Leyte. This masterful history is the second volume of John C. McManus's trilogy on the US Army in the Pacific War, proving McManus to be one of our finest historians of World War II.
 
 
About the Author
---
John C. McManus is Curators' Distinguished Professor of U.S. military history at the Missouri University of Science and Technology (Missouri S&T).  As one of the nation's leading military historians, and a recipient of the prestigious Gilder Lehrman Prize for Military History, and the author of thirteen previous well received books on the topic, he is in frequent demand as a speaker and expert commentator. In addition to dozens of local and national radio programs, he has appeared on CNN, Fox News, C-Span, the Military Channel, the Discovery Channel, the National Geographic Channel, Netflix, the Smithsonian Network, the History Channel and PBS, among others. He also served as historical advisor for the bestselling book and documentary Salinger, the latter of which appeared nationwide in theaters and on PBS's American Masters Series. During the 2018-2019 academic year, he was in residence at the U.S. Naval Academy as the Leo A. Shifrin Chair of Naval and Military History, a distinguished visiting professorship.
Praise For…
---
"McManus follows Fortitude and Fire with an outstanding second volume in his planned trilogy on the Pacific theater of WWII... Distinguished by informative deep dives into logistical and strategic issues and McManus's storytelling prowess, this is an excellent study of how the U.S. turned the tide of the war in the Pacific."—Publishers Weekly, starred review

"The second of the author's three-volume chronicle of the war against Japan is well worth the wait... McManus' expertise shines brightest in his gripping descriptions of the tactics, technology, personalities, and gruesome fighting in a score of island campaigns… Outstanding military history."—Kirkus, starred review

"Evenly written and insightful… McManus details how the U.S. Army matured into a professional force capable of sophisticated tactical and logistical maneuvers… Importantly, McManus gives much-needed attention to the experiences of Black soldiers... Command decisions and vivid descriptions of frontline combat are expertly interwoven to paint a fuller and more complex picture."—Library Journal

"The Pacific theater in World War II was the most exotic and bizarre environment for large-scale combat. John C. McManus succeeds admirably in conveying the real nature of the campaigns in the critical year of 1944, for men and commanders alike. This is a rich and absorbing narrative for anyone who wants to understand just how tough combat was for young Americans plunged into a deathly struggle for survival."—Richard Overy, author of Blood and Ruins: The Last Imperial War, 1931–1945

"Island Infernos cements John McManus as one of the leading historians of World War II writing today. The complex logistics, enormity, and awful brutal violence of the US Army's operations in the Pacific in 1944 are laid bare in utterly compelling detail. Full of deep knowledge and sound judgment, this book vividly brings alive many of the men involved, from the high command to those on the ground battling their way through some of the most difficult terrain imaginable in which to fight. With a narrative that never once lets up, McManus's book is a considerable achievement, and one that, importantly, adds much to our understanding of the Pacific War."—James Holland, author of Normandy '44: D-Day and the Epic 77-Day Battle for France