You are here
Back to top
The Bomber Mafia: A Dream, a Temptation, and the Longest Night of the Second World War (Hardcover)
Covid-19 Update
We are currently OPEN for in-store shopping from 10:00 - 4:00 Wed - Saturday.
We appreciate your support while also desiring to keep your health and safety as our top priority. We are welcoming your orders through our website, or by calling the store at 802-476-3114. We also will provide curbside or local delivery once your order arrives. Thank you so much and be safe!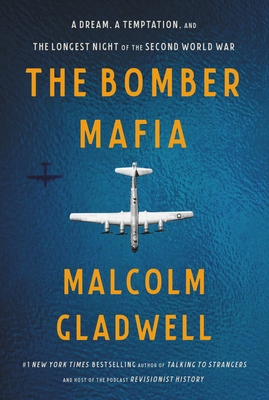 $27.00

Usually Ships in 1-5 Days
Description
---
An exploration of how technology and best intentions collide in the heat of war

A New York Times Book Review Editors' Choice
In
The Bomber Mafia,
Malcolm Gladwell weaves together the stories of a Dutch genius and his homemade computer, a band of brothers in central Alabama, a British psychopath, and pyromaniacal chemists at Harvard to examine one of the greatest moral challenges in modern American history. 
Most military thinkers in the years leading up to World War II saw the airplane as an afterthought. But a small band of idealistic strategists, the "Bomber Mafia," asked: What if precision bombing could cripple the enemy
and
make war far less lethal?   
In contrast, the bombing of Tokyo on the deadliest night of the war was the brainchild of General Curtis LeMay, whose brutal pragmatism and scorched-earth tactics in Japan cost thousands of civilian lives, but may have spared even more by averting a planned US invasion. In
The Bomber Mafia,
Gladwell asks, "Was it worth it?" 
Things might have gone differently had LeMay's predecessor, General Haywood Hansell, remained in charge. Hansell believed in precision bombing, but when he and Curtis LeMay squared off for a leadership handover in the jungles of Guam, LeMay emerged victorious, leading to the darkest night of World War II.
The Bomber Mafia
is a riveting tale of persistence, innovation, and the incalculable wages of war.
About the Author
---
Malcom Gladwell is the author of seven New York Times bestsellers: The Tipping Point, Blink, Outliers, What the Dog Saw, David and Goliath, Talking to Strangers, and The Bomber Mafia. He is also the cofounder of Pushkin Industries, an audiobook and podcast production company. He was born in England, grew up in rural Ontario, and now lives in New York.
Praise For…
---
"Gripping… Gladwell is a wonderful storyteller… in [his] deft hands, the Air Force generals of World War II come back to life… I enjoyed this short book thoroughly, and would have been happy if it had been twice as long."—Thomas E. Ricks, New York Times Book Review

"A thought-provoking, accessible account of how people respond to difficult choices in difficult times... Gladwell's easy conversational style works well… and his admiration for the Bomber Mafia shines through. His portraits of individuals are compelling."—Diana Preston, Washington Post

"Truly compelling… written in New York Times bestseller Malcolm Gladwell's characteristic approachable, story-telling style."—Zibby Owens, Good Morning America

"A riveting tale of persistence, obsession, innovation, and the incalculable wages of war... The Bomber Mafia looks at one of the greatest moral challenges of the Second World War."—Michael Lewis, Against the Rules

"Malcolm Gladwell is a one-in-a-generation kind of writer… He has an uncanny way of finding the story within the story and pointing out the important lessons often hiding in plain sight."—Bryan Elliott, Inc.com

"Excellent revisionist history… another Gladwell everything-you-thought-you-knew-was-wrong page-turner."—Kirkus (starred review)

"[A] brilliantly told parable… As ever with Gladwell… the story boils down to people at moments of crisis… books and parables alike rely on their narrative as much as their message. And for a book that is not a war story, this one is brilliantly, brilliantly told."—James McConnachie, Sunday Times (UK)

"A ruminative, anecdotal account of what led up to the deadliest air raid of WWII… Gladwell provides plenty of colorful details and poses intriguing questions about the morality of warfare… fans will savor the insights into 'how technology slips away from its intended path.'"—Publishers Weekly