You are here
Back to top
The Romanovs: 1613-1918 (Paperback)
ACCEPTING CREDIT CARDS AND PAYPAL
We are currently OPEN
Monday - Friday 9:00 - 5:00
Sat 9:00 - 3:00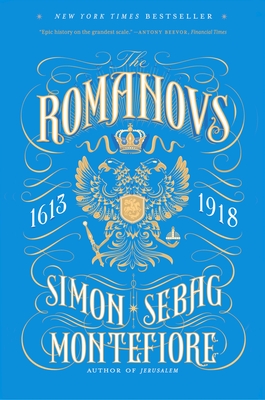 $23.00

Usually Ships in 1-5 Days
Description
---
NEW YORK TIMES BESTSELLER • From the national bestselling author of Stalin: An "epic history on the grandest scale" (Financial Times) about the most successful dynasty of modern times, a family who created the world's greatest empire—and then lost it all. 

"An essential addition to the library of anyone interested in Russian history." —The New York Times Book Review

The Romanovs ruled a sixth of the world's surface for three centuries. How did one family turn a war-ruined principality intoc the world's greatest empire? And how did they lose it all?
 
This is the intimate story of twenty tsars and tsarinas, some touched by genius, some by madness, but all inspired by holy autocracy and imperial ambition. Simon Sebag Montefiore's gripping chronicle reveals their secret world of unlimited power and ruthless empire-building, overshadowed by palace conspiracy, family rivalries, sexual decadence, and wild extravagance.
 
Drawing on new archival research, Montefiore delivers an enthralling epic of triumph and tragedy, love and murder, that is both a universal study of power and a portrait of empire that helps define Russia today.
About the Author
---
SIMON SEBAG MONTEFIORE is a historian of Russia and the Middle East. Catherine the Great and Potemkin was short-listed for the Samuel Johnson Prize. Stalin: The Court of the Red Tsar won the History Book of the Year Prize at the British Book Awards. Young Stalin won the Los Angeles Times Book Prize for Biography, the Costa Biography Award, and le Grande Prix de la biographie politique. Jerusalem: The Biography was a worldwide best seller. Montefiore's books are published in more than forty languages. He is the author of the novels Sashenka and One Night in Winter, which won the Paddy Power Political Fiction Book of the Year Award in 2014. A Fellow of the Royal Society of Literature, Montefiore graduated from Cambridge University, where he received his PhD. He lives in London.
Praise For…
---
"Simon Sebag Montefiore's The Romanovs is epic history on the grandest scale. . . . A story of conspiracy, drunken coups, assassination, torture, impaling, breaking on the wheel, lethal floggings with the knout, sexual and alcoholic excess, charlatans and pretenders, flamboyant wealth based on a grinding serfdom, and, not surprisingly, a vicious cycle of repression and revolt. Game of Thrones seems like the proverbial vicar's tea party in comparison. . . . Reading Montefiore's excellent account, it is hard to imagine how the monarchy could ever have survived under their catastrophic leadership." —Antony Beevor, Financial Times

"Don't let its size fool you: There's never been a more inviting 700-plus-page historical tome. That's because the author, who matches rigorous scholarship with a novelist's eye for delicious details, is clearly having so much fun. And why not? In three centuries, the Romanovs produced titans and weaklings, war and peace, and enough salacious behavior to make us say, 'Turn off thy Kardashians! Pick up thy Montefiore!'"
—O, The Oprah Magazine (Oprah's 10 favorite books of 2016)
 
"Spellbinding . . . it takes true historical daring to tackle such an immense subject. . . . Montefiore's novelistic gift of drawing vivid characters with a few choice words never fails him. . . . The main portraits are invariably memorable. . . . This monumental work is an essential addition to the library of anyone interested in Russian history and the doomed dynasty of the Romanovs." —Olga Grushin, The New York Times Book Review

"Wonderfully written and fascinating down to the last footnote. . . . [Montefiore's] style is polished, lively, informed. . . . Montefiore is an accomplished storyteller, and what might have been a plodding succession of reigns reads instead like a novel—specifically, in its interplay of themes and motifs, and especially its pairing of opposites, like Gabriel García Márquez's One Hundred Years of Solitude. . . . [The Romanovs'] stories—freshened, compressed, filled in and corrected—achieve new power and meaning in this fast-moving narrative. . . . Like a novel, too, this is a hard book to put down. As historical reconstruction and as storytelling, The Romanovs is an achievement of the first rank." —David Walton, The Dallas Morning News

"The book is a marvelous read and the last third, from fin de siècle to revolutionary cataclysm, is dazzling. . . . The pages on Nicholas and Alexandra are perhaps the best ever, economical in expression, simultaneously poignant and trenchant. Vignettes are used to reveals depths of personality. . . . And just as a novelist wields dialogue, Montefiore renders of the birth of each daughter with pithy quotations from memoirs. Here in the sweeping story of the downfall, the salaciousness delivers more than just sparkling passages as in Montefiore's incisive telling of Rasputin's machinations and murder or his accounts of the executions of 18 Romanovs in 1918. . . . Thanks to the talents of Simon Sebag Montefiore, Romanov rule will hereafter appear still more improbable and haunted." —Stephen Kotkin, The Wall Street Journal

"Drawing on a wide array of Russian sources, Sebag Montefiore paints an unforgettable portrait of characters fascinating and charismatic, odd and odious. Magnificent palaces, elaborate balls, and a culture that produced Pushkin, Tchaikovsky and Tolstoy existed alongside pogroms, torture and murder . . . Monarchs over one-sixth of the globe, they played at Western niceties while clinging to Byzantine notions of absolute rule. . . . Erudite and entertaining." —Greg King, The Washington Post

"It is a considerable achievement of expository prose that the detailed research that underpins this account of the Romanovs and their courts makes this long book never less than readable." —Claire Hopley, The Washington Times

"Mr. Montefiore, whose research is extensive, has an ear for the pithy anecdote. . . . The depth of his research has resulted in reassessments of many of Russia's better-known rulers." —Marilyn Bowden, Miami Today

"Captivating. . . . The story of the Romanovs has been told countless times but never with such acompelling combination of literary flair, narrative drive, solid research and psychological insight. The Romanovs covers it all, from war and diplomacy to institution building and court intrigue, but it is chiefly an intimate portrait that brings to life the twenty sovereigns of Russia in vivid fashion . . . Montefiore writes with subtlety and sophistication about the nature of court life, the dynamics of power and the shifting configurations of the various players." —Douglas Smith, Literary Review

"This enthralling and gruesome book mixes sexual exploits, torture, war, betrayal and diplomacy. It partly describes how Russia morphed from miserable weakling into mighty empire. But it is mainly the story of the personalities: the cruelty of Ivan the Terrible, the unstoppable willpower of Peter the Great, and then Catherine, perhaps more deservedly 'the Great' for her brains, charm, vision and sex drive." —Edward Lucas, 1843 magazine
 
"A mammoth, sparkling history of Russia's royal history.  Montefiore has an eye for the telling details that lifts an unfamiliar narrative. His mammoth history features many vivid, amusing suprising particulars, indeed it's startlingly lubricious and gory. Gore and sex aside, the author's pen produces reams of fluent sometimes sparkling prose. Many of his reflections on the Romanov era apply well to Vladimir Putin's domains now…The Russian court was an entrepot of power; its role as a broker allowed participants to amass wealth and bonded them in shared loyalty but it also allowed them to compete without restoring to civil war or revolution.  That sounds pretty like the modern Kremlin." —The Economist

"In a brilliant introductory essay, Sebag Montefiore discusses the principle of tsarist autocracy, the limits of imperial power, the challenges of succession and the operation of government . . . Sebag Montefiore's book is an immensely entertaining read . . . it features some of the most outrageous characters you are likely to find in a history book . . . The story of the last Romanovs has been told a thousand times, yet it is a tribute to Sebag Montefiore's skill as a narrator that you turn the pages with horrified fascination." —Dominic Sandbrook, Sunday Times (London)
 
"A glorious history of the Romanov dynasty bursting with blood, sex and tears." —Peter Frankopan, Daily Telegraph
 
"Charts the rise and fall of Russia's Romanov dynasty, which began in 1613 and ended with the whole royal family being shot dead in a basement in 1918. It has been painstakingly researched and the attention to historical detail is breathtaking. The lives of 20 tsars and tsarinas are recorded in exquisite detail through words and pictures. Although some of their escapades are not for the faint-hearted (the Russians were barbaric in their punishments) the rich and vibrant history is utterly compelling. It grabs you by the hand and thrusts you into the world of Imperial Russia with all its decadence and finery. Montefiore has become a popular presenter of BBC history programmes on subjects ranging from Jerusalem to Spain, and here his clear, concise narration and wonderful tone make this a delight to read. Ideal for students of history or for those just seduced by the BBC's version of War and Peace and wanting to brush up on their history." —Tania Findlay, The Sun (London)

"With its sordid power struggles, violence and brutality, its cast of magnificent monsters, tragic victims and grotesque 'holy men,' this is an extraordinary and gripping tale. . . . By turns horrific, hilarious and moving, but ultimately tragic, this is essential reading for anyone interested in Russia." —Adam Zamoyski, The Spectator
 
"Wonderfully compelling and insightful. . . . Sebag Montefiore provides fabulously revealing pen-portraits of the 20 Romanov tsars, as well as their spouses, mistresses and senior advisers . . . The author has already written excellent books on Catherine the Great and Stalin. This one is even better, combining as it does his expert knowledge of Russian history with the narrative wizardry displayed in his previous bestseller, Jerusalem. The Romanovs is the gripping and scarcely credible tale of the most successful royal dynasty since the Caesars, and Sebag Montefiore tells it brilliantly." —Saul David, Evening Standard
 
"Exquisite prose . . . rigorous research . . . depravity in boundless detail. Behind the dissonant degeneracy, one finds a perceptive analysis of the Russian addiction to autocracy. The Romanovs contains the most bizarre cast of characters I've ever encountered . . . The Romanov family was heavily populated with raving sex addicts . . . He writes with perfect cadence." —Gerard de Groot, The Times (London)
 
"Montefiore's journey through 300 years of the Romanov dynasty is a study of brutality, sex and power . . . riveting . . . the research is meticulous and the style captivating."
—John Kampfner, The Observer (London)
 
"This magisterial and magnificent history . . . a wonderfully ambitious account of 300 years of Russian history . . . an authoritative and gripping account of the Romanovs. The last section is especially powerful. This is a superb book and it will surely become the definitive work." —Jane Ridley, The Oldie
 
"This splendidly colorful and energetic book . . . is structured simply, as a helter-skelter chronological narrative of 300 years. Sebag Montefiore expertly selects the best (most shocking, bizarre, sensationally theatrical) bits from that long history. . . . Sebag Montefiore rises to the gaudy, gruesome subject matter, pulling all the stops out. . . . Sebag Montefiore is alive to the way his story resonates across time, from Genghis Khan to Gorbachev, but he doesn't allow his erudition to hold up the narrative's gallop . . . with great gifts for encapsulating a character and storytelling con brio." —Lucy Hughes-Hallett, New Statesman
 
"A new book from Simon Sebag Montefiore is something of a literary event these days. . . . His latest project is in some ways his most ambitious yet . . . However it's one that [he] pulls off with aplomb. As much a riveting read as a prodigious work of scholarship . . . he could not have picked a better time to publish this epic and enthralling history of a dynasty that rose up drenched in blood and died out in exactly the same manner."
—Dominic Midgley, Daily Express

"The dynasty is a marvellously rich bag of deshabille, despotism and diplomacy as Montefiore's feisty history brilliantly shows.. Countless illuminating details gleaned from archives stud the pages of The Romanovs . . . The gems are priceless . . . Immensely enjoyable full-blooded and totally enthralling."
—Judith Armstrong, The Australian

"Montefiore brings an historian's intellectual rigour to bear in this book while managing to make it both informative and entertaining. It is aimed at the general reader but is an obvious work of great scholarship and research." —Melbourne Sun-Herald

"A comprehensive overview of the Romanov dynasty . . . which skillfully interweaves the personal with the political . . . Montefiore is the perfect author for a book of the ambition and scope of The Romanovs . . . The Romanovs is old-fashioned narrative history at its colorful and unpretentious best. Montefiore is a wonderful guide . . . the writing sparkles . . . The Romanovs deserves the best praise any book can get: it never bores . . . Montefiore has much to say about political machinations as he does about personal friendships and love which lifts his work far above drily academic history." —Andre van Loon, Sydney Morning Herald
 
"Simon Sebag Montefiore has written a magisterial account of unlimited power and sexual decadence based on a remarkable correspondence." —The Mail On Sunday
 
"From dramatic rise to revolutionary fall, 20 autocratic Romanov tsars and tsarinas ruled over three centuries of blood-soaked war and brutal peace, breathtaking riches and absolute power, passionate love and ruthless ambition, madness and decadence. With ease and expertise, Simon Sebag Montefiore brazenly presents the Romanov royal history as a mesmerizing family saga, always spectacular and finally in 1918, tragic." —Iain Finlayson, SAGA magazine
 
"It's like reading 20 riveting, plot-thickening novels in the space of one volume. And the packaging looks equally scintillating." —Caroline Sanderson, The Bookseller

"In another great work of history, Simon Sebag Montefiore, author of Jerusalem, tells the bloody and decadent stories of the 20 tsars and tsarinas of Russia's last imperial dynasty. The Romanovsis like 20 gripping novels in one." —Sunday Express (London)

"As Simon Sebag Montefiore demonstrates in this magnificent, sweeping history, the Russian royal family was a remarkable dynasty, turning a vast but backward country into a mighty empire capable of defeating Napoleon at the zenith of its power. Despite the extraordinary depth and range of his research, the author avoids the dryness of more academic volumes. Instead he embarks on a rollicking, racy narrative across more than three centuries of Romanov rule, weaving a tale that is packed with salacious gossip and gruesome details." —Leo McKinstry S Magazine, Sunday Express

"Panoramic . . . Montefiore tells it compellingly." —Roger Lewis, Daily Mail
 
"Simon Sebag Montefiore's blockbuster history of the Romanov dynasty arrives with exquisite timing ... The historian's account of the last months, days and hours of the Romanovs will not disappoint ... [and] show Sebag Montefiore's narrative bravado at its scintillating best. There is unlikely to have been a racier account of how the last Romanovs met their end . . . Masterly." —Mary Dejevsky, The Independent
 
"This history of Russia's famous (and infamous) dynasty is compelling, accessible stuff, covering its huge timespan and vast cast of characters in typically vibrant fashion. It's insightful about the continuing legacy of the Romanovs in Russia today, too." —Matt Elton, HistoryExtra.com

"A lively work illustrating the personalities, sensuality, and steely wills of the long line of Russian rulers. Master British biographer Montefiore presents a staggeringly ambitious work of scholarship and temerity. . . . The author tosses in plenty of detail to fully bring to life each ruler. . . . The violence of jealously guarding power knows no bounds in this spirited account of sycophants and bedfellows. A magisterial portrayal of these 'megalomaniacs, monsters and saints" as eminently human and fallible." —Kirkus Reviews (starred review)
 
"[The Romanovs] reveals the author's gift for storytelling and research acumen. . . . Montefiore's compassionate and incisive portraits of the Romanov rulers and their retinues, his liberal usage of contemporary diaries and correspondence, and his flair for the dramatic produce a narrative that effortlessly holds the reader's interest and attention despite its imposing length." —Publishers Weekly (starred review)
 
"Montefiore lets each sovereign exhibit, in telling detail, his or her distinctive qualities while he judiciously weighs their strengths and weaknesses against the turbulence that has been the hallmark of czarist Russian history. The chapters on Peter the Great and Nicholas II stand out as particularly discerning in this major work." —Brad Hooper, Booklist (starred review)
 
"Historian Montefiore delivers an impressive telling of the Romanov autocratic dynasty in Russia. . . . Hefty . . . but the reward is worth the time. Fans of Russian and world history, those who enjoyed the author's previous works, and anyone interested in royal intrigue and betrayal will find great pleasure here." —Jason L. Steagall, Library Journal (starred review)