You are here
Back to top
Of Knives and Men: Great Knifecrafters of the World and Their Works (Hardcover)
ACCEPTING CREDIT CARDS AND PAYPAL
We are currently OPEN
Monday - Friday 9:00 - 5:00
Sat 9:00 - 3:00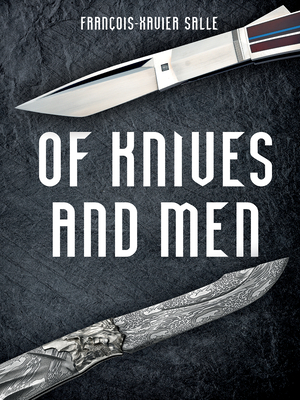 $35.00

Usually Ships in 1-5 Days
Description
---
It is likely that a knife was the first man-made tool, and certainly it was the most important for primitive man. It became the heart of every stage of civilization, evolving through the Stone Age, and the "ages" of bronze, iron and steel, finally becoming more than a tool -- a true collector's object of artisanal beauty.
Knifemaking has benefited through the use of old and new materials, and new techniques that combine traditional metallurgy with advanced technology and aeronautical craftsmanship, using metal powders. Most of all, thanks to a new generation of cutlers from every continent, artisans, artists, designers and crafters have made a wild variety of beautiful knives that are beyond most people's standard idea of a plain cutting tool.
Of Knives and Men is a superb display of the world's foremost contemporary knifecrafters.
The 46 artisans and their works selected for this book are, to our eyes, the most representative of the last 30 years. Each has their own style and character, mixed with utility and the knifemaking tradition of their home country and culture. Others are quite startling in their inventiveness: a simple steel knife with a handle made from a fox's lower jaw (Micka l Moing, France); Damascus steel blade and a fossilized mammoth ivory handle (Pekka Tuominen, Finland); stainless steel blade with an ironwood handle encrusted with mother of pearl and precious stones (Harumi Hirayama, Japan); and a "button lock" knife of Damascus steel, with a handle of Damascus, gold, titanium and mother of pearl (Michael Walker, USA).
And the knifemakers are from many countries -- Brazil, USA, France, Slovakia, Finland, Japan, Italy, Canada, South Africa and more -- displaying a stunning variety of materials and techniques.
There are 217 astounding knives and sheaths in all, plus a directory of decorative materials used for the handles and sheaths -- from birds eye maple to mammoth molar, carbon fiber and fossilized coral -- and techniques from ancient and lost-and-then-rediscovered to space age. All have a grade of cost and contact information for the makers. Extra sections on embellishments like scrimshaw, blade engraving and sculpting of handle material are added.
This is a unique and beautiful volume that will have very wide appeal.